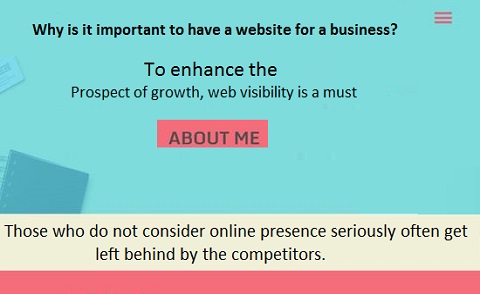 A lot of small business owners often wonder whether having a website will really do any good to their business. They say that with barely 2-3 employees, does their business still need to be online. The answer to the question is – definitely yes! Whether you are a small business owner or you run a big business, having an online presence is always a plus. If you have a website, you can showcase your business in a much better way.
Computers, smartphone, and internet have become an integral part of our lives. The internet is ever evolving and every business is making sure they have the strong online presence. Those who do not consider online presence seriously often get left behind by the competitors. To enhance the prospect of growth, web visibility is a must.
Having an online presence does not mean running an ecommerce business website. You don't necessarily have to sell your products or services through a web portal. It simply means that you are available on the world of web and getting seen by your prospective clients. When people see your presence on the web they visit your website and if they like it they consider having a business relation with you.
It doesn't really matter what type of business you are running, what demographics you are targeting, and the region in which you are providing the services, you can always have an added advantage with a website. So, whether you have a car service centre, a pet shop, or a real estate business, you must also have a website.
Here are 10 reasons why you need a professionally designed website for your business:
You can tell your prospective clients who you are really are
You can tell your potential clients what you exactly do
You can help your potential clients locate you
You can add tremendous amount of credibility to your business by creating a professional website
You can easily keep up with the competition
You can provide a medium to your potential clients to get in touch with you through your contact info and customer support details
You can easily interact with your customer by adding the forms
You can integrate social media with your website and increase your reach
Reach out to the audience who you may have not thought about
Your promotional campaign runs 24/7 through SEO and online marketing strategies