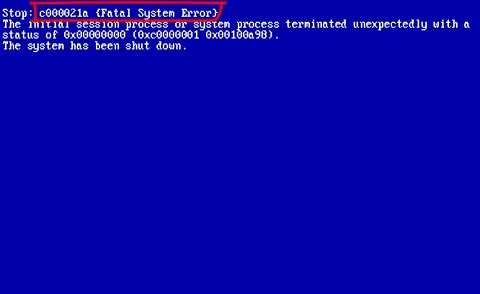 Have you ever experienced the Blue Screen of Death (BSOD) after a system crash? Do you know what it is caused by and what can you do to prevent it?
You are working peacefully on your computer and all of a sudden a blue screen flashes in front of you on the screen with some gibberish messages that are nearly impossible for you to understand – if this is the case then you have definitely experienced BSOD. While you may feel that you might have done something wrong to be subject to such a fatal computer problem, the truth is that it can happen to anyone and is pretty common.
What causes BSOD?
Both, serious hardware and software issues can result in blue screen. However, usually it is the result of fatal hardware failure.
What should I do if I see BSOD?
There are some fixes that can help you resolve this issue and get your computer up and running again. Here are some of them.
Reboot or Restart Your Computer
A lot of times, you can take care of this problem by restarting your computer. If the computer does not reboot itself, you will need to restart it manually. You can do that by pressing and holding the restart or power button on the computer CPU cabinet. If the Window restarts without any hassles, you may have experienced on-off issue that may not recur. However, it may be a sign of some hardware or software issue which may develop in the future. So, it is best to get your computer checked.
Perform a Virus or Malware Scan
A malware of any other malicious program may alter the Windows system files and cause BSOD. A full PC scan using the antivirus software can help eliminate the malware and prevent this error from recurring.
Use Run Microsoft Fix IT
You can download this tool from the Microsoft's website. Go to the site and enter 'fix it' in the search box. Follow the prompts as they appear and you will be able to install it. However, if you feel that you are not able to handle this technical solution, you can always consult a technician.
Check the RAM

Sometimes the RAM gets pulled out of its socket and causes issues with the memory modules. BSOD error is sometimes caused because of the problem with the memory modules. Open the computer lid and check if the RAM is properly inserted and mounted on the motherboard. Again, you need to be a little bit familiar with the computer hardware to do this.
Hard Drive Problem

Faulty hard drive is one of the most common reasons for the BSOD errors. The blue screen error might simply be a signal that your hard drive is faulty and may need the replacement. The bad sectors in the hard drive are known to trigger the blue screen error. To check the health of the hard disk, you can run the check disk. Visit the following link for instructions on performing disk check: https://support.microsoft.com/en-us/kb/315265.
Check any newly installed devices
If you have begun to experience the BSOD error after connecting a new device or peripheral to your computer, then you will need to check how your computer will perform after disconnecting it. Disconnect the device from your computer and uninstall its drivers. Reinstall the drivers and then connect the device again. If the problem persists, you may need to get the device checked.
Keep the Windows Updated

It is extremely critical to keep the Windows OS up-to-date with the latest security and performance updates
If your computer is still under warranty, you can ask your vendor for the advice. However, if the computer is out of warranty, please feel free to consult Kay Eye Marketing by calling us at 9212384123.