Printer Repair & Maintenance services in Indirapuram
Printer is a very important peripheral especially at the workplaces. However, printers have found their way to the homes and are utilized for a number of purposes. For instance, school going kids sometimes need the printouts for their projects. Also, people working from home or who add extended work hours at home may need printer. A printer is a combination of digital and mechanical components and there is no surprise if it develops some issues. Here are some of the most common problems with the printers: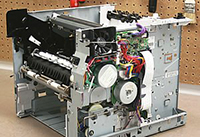 What Can We Do for You
If you are experiencing any problems with the printer, give us an opportunity to fix it for you. We have a team of engineers who are highly skilled in printer repair and maintenance.
Whether you have a laser printer, inkjet printer, or dot matrix printer, we will take care of it for you and get it up and running again.
Our engineers can repair any type and brand of printer including HP, Epson, TVSE, canon, Wipro, Brother, and more. Here are some of the printer services we provide:
Our Services
Printer Installation

Dot Matrix Printer Head Repairing

Replacing Fuser Assembly

Replacing Transfer Belt

Laser Printer Cartridge Refilling

Chip Level Repairing
Other Services
We want to make things as convenient for you as possible. This is the why we offer free collection of your computers and peripherals from your home. This means that you no longer need to worry about carrying your printer or other computer items all the way from your home to our workshop. Just give us a call and one of our representatives will pick the device from your home.
But this is not it! You can also get a free quote from us once your device has been diagnosed by our engineers. Also, we realize that you may need your printer up and running as soon as possible. Therefore, we strive to provide the same day service to our customers and also give the free delivery back to your home.
Printer FAQs
My computer is not identifying the printer: Make sure that all the wires are connected properly and the printer is turned on. Also ensure
that the printer drivers are installed correctly.
Paper feed is not working: Papers do not feed when there is a problem with the roller. Due to prolonged
usage the rollers wear out causing this problem.
The print is blurred or shadowed: The malfunctioning of the fuser causing the defect called 'ghosting'.
There are vertical lines with the print: The vertical lines are also caused by the defective fuser. However,
sometimes it is caused when the ink cartridge is empty.
Printer is making strange sounds: The fuser or any other internal component may have malfunctioned causing the sounds.