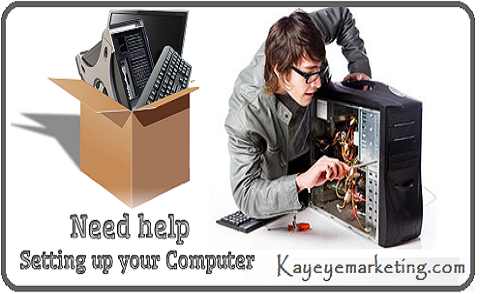 Computer setup services at KayEye Marketing means our engineers will verify your PC works right from the get-go. Call us at 9212384123 to update your system, set up accounts, connect your PC to the Web and install programs like your Internet security, your most loved photograph editing tool or Microsoft Office. We cherish verifying individuals get their computing life off on the right foot.
Under this service plan we will:
Physically setup and connect computer, monitor, keyboard, mouse and speakers
Perform first time setup
Install critical system updates and set to automatically install future updates
Create user accounts (if applicable)
Optimize start-up and shutdown
Clean up menu, quick launch and taskbar shortcuts
Remove unwanted programs and trial ware
Test network and internet connectivity on existing network
Set default web browser, homepage and search provider
Demonstrate basic functionality and answer questions
Install and update Internet security software
Install and configure apps/software programs (MS Office, Adobe Reader, etc.)
Setup email accounts
Install hardware device (printer, external hard drive, video card, RAM, etc.)
How do I know my computer is safe from viruses?
While it's almost impossible to be 100% secured, great precaution measures are the right begins. Verifying your computer operating system is up-to-date and running an updated proactive anti-virus is the 1 – 2 combination to keep your PC free from infection.
What are critical system updates?
These include various system updates, the most common of which are updates to the operating system. Software developers at major brands like Microsoft, Adobe and Java work hard to make regular updates to their products available as a way to ensure the best performance and highest security. We at Kay Eye Marketing make sure your new computer has all the latest updates and configure your system to update automatically, when possible, for future updates.
Will Kay Eye Marketing engineers setup computer even if I didn't purchase from them?
Yes, we love working with technology, no matter where it comes from.